Our Team
COACH CHARLTON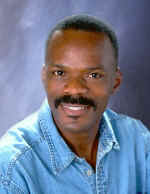 David Charlton is a 1979 graduate of the Freeport Anglican High School in Grand Bahama and obtained a full athletic scholarship from Howard University in Washington, D.C. where he received a B.Sc. Degree in Mechanical Engineering in 1985.
David is an 11-time Carifta Games medalist and 10-year Carifta Games record holder in the 400m hurdles, former Jr. National record holder in the 400mH for 26 years (1981-2007), a NCAA record holder and All-American and CAC Games, Commonwealth Games and the World Championship Games competitor.
Coach Charlton coached the 2001, 2002, 2007, 2008, 2010 and 2011 Carifta Games Teams. He was the 2003 Coordinator for the National Jr. Track & Field Program. David was a coach on the 2003, 2007 and 2011 World Youth Championship Teams in Canada, Czech Republic and Lille France, respectively. He also coached the 2004, 2006 and 2008 World Junior Championship Teams in Grosetto Italy, Beijing China and Bydgoszcz Poland, respectively. He was also an observing coach at the 2003 Indoor World Championships in Hungary, a personal coach at the 2012 World Junior Championships, Spainand coached the 2005 Sr. CAC and Jr. Pam Am Championships Teams. He was Head Coach for the Inaugural Youth Olympic Games Team and assigned as relay coordinator for the Gold Medal winning Americas Women sprint medley team. Coach was the Head Men's Coach of the 2012 Bahamas Olympic Team and the Gold medal winning Men's 4x400 relay - The ¿Golden Knights' & ¿Golden Coach'.
He is a former BAAA executive member and past president of the Bahamas Track & Field Coaches Association. Coach Charlton has an IAAF Coaches Certification and Diploma up to Level V in sprints, hurdles and relays and the IAAF Lecturers Certification. In 2010 he completed the World Junior Championships Coaches Seminar in Moncton, Canada. He was also voted "Coach of the Year 2011". In May 2012 he was inducted into the Golden South Classic Hall of Fame (USA).
---
COACH FERGUSON
COACH FERGUSON serves as Vice president and Assistant Coach of the Star Trackers Track & Field Club, positions he has held for the past five (5) years.

His passion for the sport expresses itself through his daily dedication to the athletes he helps to train and mentor, and his unbridled enthusiasm at their success.

The saying, "No one advances by accident, all achievements are reached by vision and hard work", encapsulates his commitment to the sport and all those within his sphere of influence.


Coach Ferguson
This commitment was recently personified in December 2005 when he participated in the International Association of Athletics Federation (IAAF) Level I Coaches Certification Course. This two weeks spent in Barbados was by no means a walk in the park, but by the end of the course he finished at the top of his class with eligibility to pursue Level II. He also holds ertification in USA Track Level I Coaches Certification.
---
COACH STRACHAN
Coach Trevor Harcourt Strachan is a 1981 Graduate of Queen's College and was a 1983 walk on at Liberty University in Lynchburg VA. After his first year, Trevor obtained a full athletic scholarship. He received a multi Bachelor of Science Degree in Business Administration and Psychology and also a Masters Degree in Marketing and Sales.
Coach Strachan did not start running competitively until going off to College, "I ran everyday with my father growing up but never competed". Trevor earned NCAA Awards in Outdoor and Indoor 800m, 400m and 4x400m relays 1984-1988.
Coach Strachan coached the Bahamas NACATA 2006 Cross Country Team and the 2006 Carifta Games Team, Middle Distance Squad securing the U17 Boys 800m Gold Medal and U20 Boys Bronze Medal for the Bahamas. He has completed numerous seminars on Track and Middle Distance Performance Enhancements.
---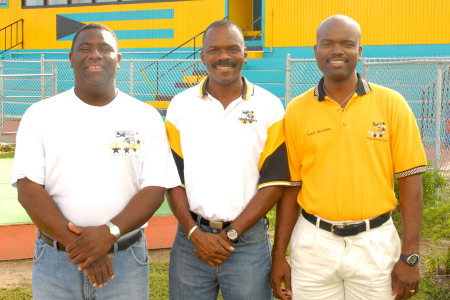 Coaches Ferguson, Charlton and Strachan
---
STAR EXECUTIVES - 2011
David Charlton

President/Head Coach/Hurdles
Rudolph Ferguson Sr.
Vice President/Sprint Coach
Trevor Strachan Sr.
Middle Distance Coach
Luther Rolle
Assistant Coach
Tiffany Gaitor
Secretary
Monique Rolle
Assistant Secretary
Laura Pratt-Charlton
Treasurer/Team Manager
Oscar Dorsett
Assistant Treasurer
Karen Missick
Newsletter Editor
Luther Rolle
Monique Rolle
Joanne Hamilton

Parents' Representatives
Ashley Johnson
Audley carey
Athletes' Representatives
Dr Cindy Dorsette
Dr Agreta Eneas-Carey
Prescola Rolle
Medical Personnel